In this real estate report we will uncover what is happening in the market and what the future may bring.
It seems like uncertainty is the only certain thing we have these days. This is true for nearly every market. But it seems to be even more prevalent in real estate market. Data is not as easily found or reported on in mainstream media. And being a real estate investor myself, I find it important to keep pulse on what is happening .
First, I will cover some information of what is happening around the nation. Then we'll talk about where I think we might be heading.
Is It Hot Or Cold?
It's both. It is important to recall that real estate is local. One area could be heating up, while another one is cooling off. And you don't even have to travel far.
We'll start with big picture view and go from there.
Case-Shiller U.S. National Home Price Index, which tracks the larges US markets indicates that as of March 2020 prices have continued to climb. There is a delay in this reporting, which is why there is a lag (just in case you were wondering). Here is the chart from FED:
As you can see overall the market goes up, up, up!
But, it doesn't tell the whole story.
Looking Further Back
Looking at it, you would think that all is well in the world. However, turning on TV, radio, or just talking to people you know very well about the economic and social unrest that we are all living through.
If you are curious to get more information and insight into CS Index, you can find it here.
Let's dig deeper!
Case-Schiller has an additional report that gives us a bit more information, let's look at it:
You will notice something peculiar about this chart and that is that it goes way back in history and charts a few more things, like home prices, building costs, population growth, and interest rates. All of those play a part in this equation.
You will notice that way back when, building costs and home prices were highly correlated. Then, they decoupled and prices took off. You will also notice that interest rates (basically cost of borrowing) was the highest in the 1980's, where average interest on mortgage was in the teens (roughly between 15-18%). And you will also notice that interest rated dropped in 1940's (yup, post Great Depression). There is a small increase in interest rates when we get into late 2010's but that has since dropped to lowest rates ever (ranging between 2.5-3.5% or so).
Mortgage Rates
Speaking of interest and mortgage rates, let's take a look at what's happening in this sector these days. Remember, this impacts how much it costs you to borrow. Of course lower rates mean lower payments (or as mortgage brokers like to say: "You can buy more house!").
It's been a few days since I reviewed these and only a couple of weeks ago, these rates were lower. You can find some in-depth analysis and display of these on my YouTube Channel.
Just in case you think I'm fibbing, you can see the report on UWM boasting about 2.5% rates here.
As you can see not only is location paramount to real estate investors, but so is the timing. Rates have dropped, then climbed some.
You are also likely well informed that borrowing to purchase your home has been a bit tougher than before. Banks are asking for larger down payment, bigger credit scores, and a whole slew of additional requirements.
Before we continue let's recap briefly: prices are higher, lending is tighter and rates are on the lower-but-climbing level.
Now, let's take a look at another chart from Mortgage Banker's Association:
This chart shows us what's happening over the last 20 years. You will notice that 30-year fixed has been dropping (green).
The red line shows mortgage refinance application numbers over time. Notice that it spiked up in Q1 2020 but then started to drop of. This is matching the reports I'm seeing from news agencies and folks in the mortgage business. Individuals wanted lower payments to save more cash. Makes sense! And this is normal when in this environment (take a look at 2008 and especially 2009).
Finally, the blue line is the new mortgage application (basically folks looking to buy). Since 2010 we stayed relatively flat. Numbers only started to climb some in mid-2015, but very moderately. Then a big spike towards the end of 2019 (don't ask me why) and drop in Q1 2020. However, since the initial drop we've come back to 2019 levels (although have not reached the peak).
In simpler terms:
Refinancing apps down, sharp (just shy of 9%). Purchasing apps up moderately (about 5%).
Housing Builder's Report
A few weeks ago I did a report on HMI (Housing Market Index) where we fell down sharply. We reached levels we haven't seen in a LONG time (dipped into the 30's). HMI is basically a tracker on how confident folks are in the housing sector and what can we expect. Another way to think about is is consumer confidence. Since then, we have seen a moderate rise.
What this tells me is that consumer confidence, while not at all time high, it's recovering. Good sign.
When it comes to housing starts (another key indicator showing what's happening with building new inventory) you will notice a sharp decline:
What this chart tells me is that there will be lack of new homes on the market in the upcoming months (and years).
Lumber prices are on the lower end, but climbing, likely adding a bit to the cost of new homes (and rehabs).
For a fancier charts and more information, visit NAHB.
Home Sales
While the new home starts are down, the rise of the newly built homes was outperforming existing homes. However, existing home sales are up 3.6% as reported by National Association of Realtors.
Zillow reports that home prices and valuations are up 4.1% since last year, however they predict that it will drop 1.5% over the course of 1 year. None the less, those that bought a year ago will still be up a year from now.
What Does It All Mean?
What kind of real estate market report would this be if we didn't connect all the dots? Let's recap and look at where we are to forecast where we might go.
So, the prices are up, rates are down-ish, confidence is rising, and we are seeing an increase in purchases. Great!
However, we are also seeing that new builds are down the drain. We could experience lack of housing options in the upcoming years and months. We are seeing that refi applications are down. New purchase applications are up. This signals that folks are not planning to stay for the long haul.
These showcase a slight continued rise in the real estate prices over the short-term. But that's not the whole story!
Rental Price Report
What kind of real estate investors would we be if we didn't take the income into the equation?!
Based on information found on wolfstreet.com we can see that rental prices across the nation are starting to drop, especially in highly priced markets.
Aside from a handful of cities in the report, you will notice that vast majority of them are in the red, some as much as 15-20% down. That's a big drop, but nothing I didn't expect to see in these highly cyclical markets.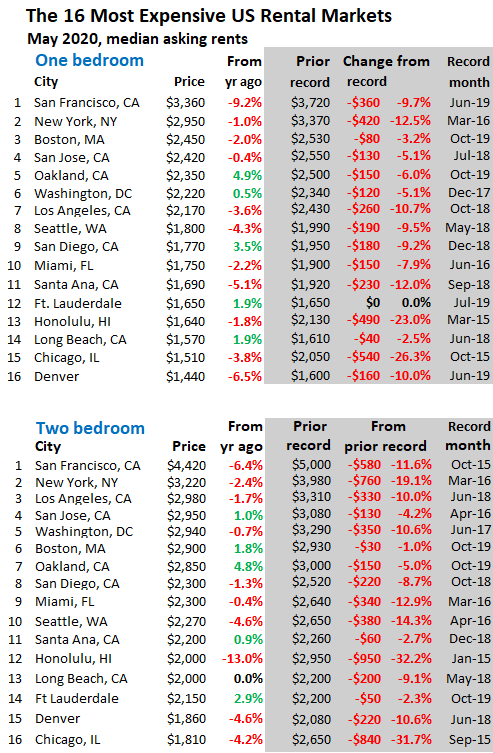 Image source: WolfStreet.com
 Unemployment And Place Of Work
This report would not be complete if we didn't take a look at what's happening to people and their income.
First of, as of today's writing there are well over 40 million people who are unemployed. Additionally, there are reports that those who are employed can expect to see pay decreases. But reporting to an office may become optional for many.
This means that those that are employed will need to pay lower price for their home. They will likely look to move to a bit more affordable locations. This would provide them with a bit lower risk of riots and looting (another reality right now).
Real Estate Future for 2020 into 2021
So, where do I see this train going based on what we see today?
I do see a short-term price rise overall. However I do expect to see lower home-prices in highly cyclical and expensive markets (think NYC, SF, LA, etc.).
I expect that folks will move out of the coveted down-town areas into more suburban locales. This way they can spread out and avoid their condominium or apartment building being vandalized or burned. Aside from the riot-risk, I expect that folks will want to go a bit further outside the major metropolis to have more space. This will allow for more physical-distancing ability to enjoy outdoors without crowds (read: back yard).
Additionally, because they do not need to report to work on daily basis, their distance from the office can be much further away. Furthermorer, they may look for a slightly bigger space where they can situate their new office, since that is the new normal.
So, I expect that over the upcoming months (Q3 and Q4 of 2020) we will see movement into flatter real estate markets. These have traditionally had more affordable homes, both to own and rent. Homes and apartments that have 2-3 bedroom homes (maybe 4) will see an uptick in these areas. Additionally, I expect to see that properties with larger plot of land will do well. This is because more folks will want to spread out abut also grow their own food.
However, as more people move into these areas, I expect to see sharp rise in prices due to no new homes to meet the additional demand. In contrast, more expensive areas will see price adjustments during the same time period.
As we enter later part of 2020 and go into 2021, I expect to see more foreclosures. Between unemployment and AirBnb loses, folks will have to turn over the keys.
Over time, the most expensive markets may become much more affordable, but only in the short term.
As folks may see lower prices, COVID19 becomes history and riots calm down. Many younger individuals may decide that major metropolis is a good place after all. One-bedroom and studio units will likely drop down sharply, making it a very affordable entry point for the millennials.
Of course, this look into the future depends on other things remaining equal (more or less). But I don't expect major shifts in interest rates over the upcoming 6-18 months. If they do move, I see them going lower.
In Conclusion
If you have been looking to get into real estate there are great opportunities right now in more affordable markets. You will likely get a great price and increasing rents.
And, if you have been wanting to get into the major cities, then patience will serve you well.
Want to learn how you can benefit from the upcoming changes in the real estate market? Sign up for Academy.